Dreamweaver CS5.5: The Missing Manual
(ebook)
(audiobook)
(audiobook)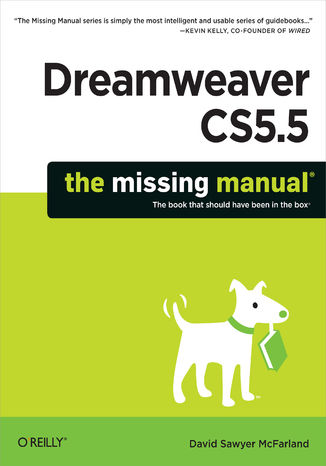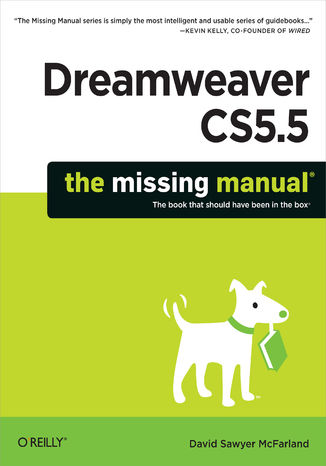 Ocena:

Stron:

1216

2w1 w pakiecie:

ePub

Mobi
Opis książki
Dreamweaver is the tool most widely used for designing and managing professional-looking websites, but it's a complex program. That's where Dreamweaver CS5.5: The Missing Manual comes in. With its jargon-free explanations, 13 hands-on tutorials, and savvy advice from Dreamweaver expert Dave McFarland, you'll master this versatile program with ease.
Get A to Z guidance. Go from building your first web page to creating interactive, database-driven sites.
Build skills as you learn. Apply your knowledge through tutorials and downloadable practice files.
Create a state-of-the-art website. Use powerful, easy-to-use tools such as CSS3 and Spry effects to build visually rich, fast-loading pages.
Add instant interactivity. Choose from pre-packaged JavaScript programs to add drop-down menus, tabbed panels, forms, and other features.
Tap into databases. Connect your site to a database and build pages that dynamically sort and display stored information.
Go mobile. Build and preview websites for smartphones and tablets.
Discover hidden tips and tricks. Get undocumented workarounds and shortcuts.
Szczegóły książki
ISBN Ebooka:

978-14-493-1312-8, 9781449313128

Data wydania ebooka:

2011-06-22 Data wydania ebooka często jest dniem wprowadzenia tytułu do sprzedaży i może nie być równoznaczna z datą wydania książki papierowej. Dodatkowe informacje możesz znaleźć w darmowym fragmencie. Jeśli masz wątpliwości skontaktuj się z nami sklep@ebookpoint.pl.

Język publikacji:

angielski

Rozmiar pliku ePub:

34.2MB

Rozmiar pliku Mobi:

34.2MB
Spis treści
Dreamweaver CS5.5: The Missing Manual
A Note Regarding Supplemental Files
The Missing Credits

About the Author
About the Creative Team
Acknowledgments
The Missing Manual Series
Introduction
What Dreamweaver Is All About
Why Dreamweaver?
Whats New in Dreamweaver CS5.5
HTML, XHTML, CSS, and JavaScript 101
Document Types
Of Tags and Properties
XHTML, Too
And HTML5, As Well
Add Style with Cascading Style Sheets
Add Interactivity with JavaScript
The Very Basics
About This Book
AboutTheseArrows
Macintosh and Windows
About the Outline
Living Examples
Online Resources

The Missing CD
Registration
Feedback
Errata
Newsletter
Safari Books Online
One. Building a Web Page
1. Dreamweaver CS5.5 Guided Tour

The Dreamweaver CS5.5 Interface

The Document Window
The Insert Panel
The Files Panel
The Property Inspector
The Application Bar
Organizing Your Workspace

Floating panels
Iconic panes
Workspace Layouts

Setting Up a Site
Creating a Web Page
The Dreamweaver Test Drive

Phase 1: Getting Dreamweaver in Shape
Phase 2: Creating a Website
Phase 3: Creating and Saving a Web Page
Phase 4: Adding Images and Text
Phase 5: Preview Your Work
Phase 6: Finishing the Page
2. Adding Text to Your Web Pages
Adding Text in Dreamweaver

Adding Special Characters
Line Breaks
Nonbreaking Spaces
Multiple Spaces
Adding a Date to Your Page
Copying and Pasting Text
Simple Copy and Paste
Paste Special
Pasting Text from Word: The Basic Method
Pasting Text with Word Formatting
Pasting Excel Spreadsheet Information
Importing Word and Excel Documents (Windows)
Selecting Text
Spell-Checking
About Dictionaries
Performing the Check
3. Text Formatting
Paragraph Formatting

Paragraphs
Headlines
Preformatted Text
Paragraph Alignment
Indented Paragraphs
Creating and Formatting Lists
Bulleted and Numbered Lists

Creating a new bulleted or numbered list
Formatting existing text as a list
Reformatting Bulleted and Numbered Lists
Adding new items to a list
Formatting bullets and numbers
Nested lists
Definition Lists
Removing and Deleting List Items
Removing list formatting
Deleting list items
Text Styles
4. Introducing Cascading Style Sheets
Cascading Style Sheet Basics

Why Use CSS?
Internal vs. External Style Sheets
Types of Styles
Creating Styles
Phase 1: Set Up the Style
Phase 2: Defining a Style
Creating a Style with the Property Inspector
Using Styles
Applying a Class Style

Applying a class style to text
Applying a class style to objects
Other class styling options
Removing a Class Style
Applying IDs to a Tag
Linking to an External Style Sheet
Manipulating Styles
Editing Styles
Deleting a Style
Renaming a Class Style
Duplicating a Style
Text Formatting with CSS
Choosing a Font

Applying font formatting
Creating custom font lists
Changing the Font Size
Picking a Font Color
Adding Bold and Italic
Aligning Text
CSS Type Properties in the Rule Definition Window
Block Properties
List Properties
Cascading Style Sheets Tutorial
Setting Up
Creating an External Style Sheet
Editing a Style
Adding Another Style
Creating a Class Style
Attaching an External Style Sheet
5. Links
Understanding Links

Absolute Links
Document-Relative Links
Root-Relative Links
Link Types in Action

Link from the Home page (index.html) to the Contact Us page (contact.html)
Link from the Horoscopes page to the Pisces page
Link from the Scorpio page to the Horoscopes page

Executive Summary
Adding a Link
Browsing for a File
Using the Point-to-File Tool
Typing (or Pasting) the URL or Path
Using the Hyperlink Object
Adding an Email Link
Linking Within a Web Page
Method 1: Creating a Named Anchor
Method 2: Adding an ID
Linking to an Anchor or ID
Viewing and Hiding Anchors
Modifying a Link
Changing a Links Destination
Removing a Link
Styling Links
Creating a Navigation Menu
Adding a Menu
Adding, Editing, and Removing Links
Changing the Look of the Navigation Menu

Formatting regular menu buttons
Formatting rollover menu buttons
Formatting submenu buttons
Changing the width of menus and buttons
Positioning pop-up menus
Removing a Spry menu
Link Tutorial
Linking to Other Pages and Websites
Formatting Links
Adding a Navigation Bar
Styling the Menu Bar
Submenus and Rollover Buttons
6. Images
Adding Images

Adding an Image Placeholder
Inserting an Image from Photoshop
Method 1: Using the Insert Image Object

JPEG optimization options
GIF and PNG8 optimization options
PNG optimization options
Method 2: Copying and Pasting from Photoshop
Modifying an Image
Adding an ID to an Image
Adding a Text Description to an Image
Changing an Images Size
Some Properties to Avoid
Controlling Images with CSS
Wrapping Text Around an Image
Adding Borders
Background Images

Background image
Background repeat
Background attachment
Horizontal and vertical position
Editing Graphics
Dreamweavers Built-In Editing Tools

Cropping an image
Resampling an image
Brightness and contrast
Sharpening images
Setting Up an External Editor
Editing Smart Objects
Editing Images Pasted from Photoshop
Optimizing an Image
Image Maps
Editing a Hotspots Properties
Rollover Images
Tutorial: Inserting and Formatting Graphics
Setting Up
Adding an Image
Inserting a Photoshop File
Inserting a Rollover Image
Using Background Images
7. Tables
Table Basics
Inserting a Table
Selecting Parts of a Table

Selecting a Table
Selecting Rows or Columns
Selecting Cells
Expanded Table Mode
Formatting Tables
Aligning Tables
Clearing Height and Width Values
Resizing a Table
Modifying Cell and Row Properties
Alignment Properties
Table Header
A Property to Forget
Cell Decoration
Setting Cell Dimensions
Tips for Surviving Table-Making

The contents take priority
Theres no such thing as column widthonly cell width
Do the math
Adding and Removing Cells
Adding One Row or Column
Adding Multiple Rows or Columns
Deleting Rows and Columns
Merging and Splitting Cells
Tabular Data
Importing Data into a Table
Sorting Data in a Table
Exporting Table Data
Tables Tutorial
Adding a Table and Data
Modifying the Table
Formatting the Table
Final Improvements
Two. Building a Better Web Page
8. Advanced CSS

Compound Selectors

Descendent Selectors

Descendent selectors with Class and ID styles

Styling Groups of Tags
Fast Style Editing with the Properties Pane
Moving and Managing Styles
More About CSS
Inheritance
The Cascade
The Other Side of the CSS Styles Panel
Using the Code Navigator
Styling for Print
Previewing Media Styles in Dreamweaver
Tips for Printer Style Sheets
Using CSS3
The Properties Pane
Code Hinting
Common CSS3 Properties
9. Page Layout
Types of Web Page Layouts
Float Layout Basics

The Mighty <div> Tag
The Insert Div Tag Tool
A Simple Example
Understanding the Box Model
Dreamweavers CSS Layouts
The Structure of Dreamweavers CSS Layouts
Modifying Dreamweavers CSS Layouts
Making General Changes to a CSS Layout
Modifying Fixed Layouts
Modifying Liquid Layouts
Other Styles to Change
Absolute Positioning
The CSS Positioning Properties

Positioning type
Width and height
Visibility
Z-Index
Overflow
Placement
Clip
Adding an AP Div to Your Page
Drawing AP Divs
The AP Elements Panel
Modifying AP Element Properties
Resizing Absolutely Positioned Elements
Moving AP Elements
Aligning AP Elements
Background Image and Color
Nesting AP Divs
CSS Layout Tutorial
Adding Content
Fine-Tuning the Layout
Adding Styles and Navigation
Fiddling with the Footer
10. Troubleshooting CSS
Analyzing CSS with Dreamweaver

Editing CSS Properties
Analyzing CSS in JavaScript and Server-Side Pages

Following links in server-side pages
Checking Browser Compatibility
Overcoming Common CSS Problems
Clearing and Containing Floats
Avoiding Float Drops
Handling Internet Explorer 6 Bugs
Double-Margin Bug
Other IE Problems
11. Under the Hood: HTML
Controlling How Dreamweaver Handles HTML

Auto-Fixing Your Code
Web Application Server Pages
Special Characters and Encoding
Code View
Coding Toolbar
Code Hints

HTML5 code hints
JavaScript code hints
jQuery code hints
PHP code hints
Code Collapse
Setting Code Formats
Indents
Line breaks
Character case for tags and attributes
The <td> tag
Advanced formatting options
Related Files
Live Code
Quick Tag Editor
Using the Quick Tag Editor
Tag Inspector
Comparing Versions of a Web Page
Using WinMerge to Compare Files
Using Text Wrangler to Compare Files
Reference Panel
Inserting JavaScript
12. Designing Websites for Mobile Devices
Previewing at Different Resolutions

Multiscreen Preview
Previewing Other Resolutions
Media Queries
Dreamweaver CS5.5s Approach to Media Queries
Using Dreamweavers Media Queries Tool

Using a site-wide media queries file
Applying media queries to the current document
Strategies for Using Media Queries
Organizing Your Style Sheets for Media Queries
Adding Styles to Media Query Style Sheets
jQuery Mobile
Creating a Basic jQuery Mobile Page
Anatomy of a jQuery Mobile Page
Adding Content to a jQuery Mobile Page

Adding lists
Adding a layout grid
Adding a collapsible block
Adding form elements
Adding new pages
Formatting a jQuery Mobile Page
Launching Your jQuery Mobile Site
Three. Bringing Your Pages to Life
13. Forms
Creating a Form
Adding Form Elements

What All Form Elements Have in Common
Text Fields
Checkboxes and Checkbox Groups

Radio Buttons and Radio Groups
Pull-Down Menus and Lists
File Field
Hidden Field
Buttons
The <label> Tag
The <fieldset> Tag
Validating Forms
Spry Validation Basics
Formatting Spry Error Messages and Fields
Spry Text Field

Validation types
Custom validation
Enforcing a pattern
Supplying a hint
Limiting characters and enforcing a range of values
Spry Text Area
Spry Checkbox
Spry Select
Spry Password
Spry Confirm
Spry Radio Group
Forms Tutorial
Insert a Form and Add a Form Field
Adding a Spry Validation Text Field
Adding a Spry Form Menu
Adding a Spry Radio Group
Completing and Testing the Form
14. Spry: Creating Interactive Web Pages
What is Spry?
Tabbed Panels

Adding a Tabbed Panel
Adding and Editing Panel Content
Formatting Tabbed Panels
Accordions
Adding an Accordion
Adding and Editing Accordion Content
Formatting a Spry Accordion
Collapsible Panels
Adding a Collapsible Panel
Adding Content to a Collapsible Panel
Formatting a Collapsible Panel
Spry Tooltips
Adding a Spry Tooltip
Adding Content to a Tooltip
Formatting a Tooltip
Spry Data Sets
Storing Data in an HTML File
Storing Data in an XML File

What is XML?
Rules of the road
Inserting a Spry Data Set
Inserting HTML Data
Inserting XML Data
Choosing a Data Layout
Spry table
Master/detail layout
Stacked containers
Stacked Containers with Spotlight Area
Creating a Spry Region
The Bindings Panel
Spry Repeat Region
Spry Repeat Lists
Live View
15. Dreamweaver Behaviors
Understanding Behaviors

Behavior Elements
More About Events
Applying Behaviors
The Behaviors Panel
Applying Behaviors, Step by Step
Adding Multiple Behaviors
Editing Behaviors
A Quick Example
Events
Mouse Events
Keyboard Events
Body and Frameset Events
Selection and Highlighting Events
Form Events
The Actions, One by One
Spry Effects

Appear/Fade
Blind
Grow/Shrink
Highlight
Shake
Slide
Squish
Navigation Actions
Open Browser Window
Go to URL
Jump Menu and Jump Menu Go
Check Plugin
Image Actions
Preload Images
Swap Image
Swap Image Restore
Message Actions
Popup Message
Set Text of Status Bar
Set Text of Text Field
Set Text of Container
Text of Frame
Element Actions
Show-Hide Elements
Draggable divs
Advanced Behaviors
Adding More Behaviors
The Widget Browser
Find and Install Widgets
Configuring Widgets
Adding a Widget to a Web Page
16. Add Flash and Other Multimedia
Flash: An Introduction

Insert a Flash Movie
Change Movie Properties

Rename your movie
Replace your movie
Set the Src property
Change your movies size
Set playback options
Leave margins unspecified
Select a quality setting
Adjust your movies scale
Align your movie
Background color
Wmode
Automate the Flash Download
Add Flash videos
Other Video Options
Four. Building a Website
17. Introducing Site Management

The Structure of a Website

Setting Up a Site

Site name
Local site folder
Default images folder
Site-wide Media Query file
Links relative to
Web URL
Case-sensitive links
Cache

Editing or Removing Sites
Exporting and Importing Sites
Organizing Site Files
Modifying the Files Panel View
Adding New Folders and Files

Adding files
Adding folders
Moving files and folders
Renaming files and folders
Deleting files and folders
Site Assets
Viewing the Assets Panel
Inserting Assets

Adding color and link assets
Favorite Assets
Identifying your Favorites
Using your Favorites
Removing Favorites
Organizing Favorite assets
18. Testing Your Site
Site Launch Checklist
Previewing Web Pages in BrowserLab

BrowserLab Setup
Testing Pages in BrowserLab

Capturing JavaScript interactivity
Find and Fix Broken Links
Finding Broken Links

Checking just one page
Checking specific pages
Checking an entire website
Fixing Broken Links
Listing External Links
Orphaned Files
Changing a Link Throughout a Site
Validating Web Pages
Steps for Validating Web Pages
Cleaning Up HTML (and XHTML)
Site Reporting
Download Statistics
19. Moving Your Site to the Internet
Adding a Remote Server

Setting Up a Remote Server with FTP or SFTP
More Remote Server Options for FTP
Setting Up a Remote Server using FTP over SSL/TLS
Setting Up a Remote Server over a Local Network
Setting Up a Remote Server with WebDAV
Setting Up a Remote Server with RDS
Advanced Remote Server Settings
Transferring Files
Moving Files to the Web Server

Other ways to move files to your web server
Getting Files from Your Web Server
Cloaking Files
Check In and Check Out
Checking Out Files
Checking In Files
Synchronizing Site Files
Communicating with Design Notes
Setting Up Design Notes
Viewing Design Notes
Organizing the Columns in the Files Panel
Creating Custom Columns

Phase 1: Defining the new information types
Phase 2: Adding the column
Five. Dreamweaver CS5.5 Power
20. Snippets and Libraries

Snippets Basics
Using Snippets
Creating Snippets

Built-In Snippets
Library Basics
Creating and Using Library Items

Adding Library Items to a Page
Editing Library Items
Renaming Library Elements
Deleting Library Elements
Snippets and Library Tutorial
Creating a Snippet
Creating a Library Item
21. Templates
Template Basics
Creating a Template

Turning a Web Page into a Template
Building a Template from Scratch
Defining Editable Regions
Adding a Basic Editable Region
Adding a Repeating Region
Repeating Tables
Making a Tag Attribute Editable
Adding Optional Regions
Locking Optional Regions
Repeating Optional Regions
Optional Editable Regions
Advanced Optional Regions

Even fancier tricks
Controlling regions with expressions
Editing and Removing Optional Regions
Nested Templates
Customizing Nested Templates
Using Nested Templates
Building Pages Based on a Template
Working with Repeating Regions
Changing Properties of Editable Tag Attributes
Hiding and Showing Optional Regions
Applying Templates to Existing Pages
Updating a Template
Updating Nested Templates
Unlinking a Page from a Template
Exporting a Template-Based Site
Template Tutorial
Creating a Template
Creating a Page Based on a Template
Creating Another Template-Based Page
Updating a Template
22. Find and Replace
Find and Replace Basics
Basic Text and HTML Searches

Phase 1: Determine the Scope of Your Search
Phase 2: Specify What to Search For
Phase 3: Provide the Replacement Text
Phase 4: Choose the Search Settings
Phase 5: Take Action
Advanced Text Searches
Limiting the Search by Tag
Limiting a Search by Attribute
Advanced Tag Searches
A Powerful Example: Adding Alt Text Fast
23. Customizing Dreamweaver
Keyboard Shortcuts

Make Your Own Shortcut Set
Changing Keyboard Shortcuts
Create a Shortcut Cheat Sheet
Dreamweaver Extensions
Browse the Exchange
Find a Good Extension
Other Extension Sources
Download and Install Extensions
Extension Manager
Make Your Own Extensions
Six. Dynamic Dreamweaver
24. Getting Started with Dynamic Websites

Pieces of the Puzzle

Understanding Server Models

Picking a Server Model
Dynamic Websites: The Setup
Setting Up a Testing Server
Localhost and the Local Site Root Folder
Setting Up Dreamweaver
Creating a Dynamic Page
Databases: A Quick Introduction
Tables and Records
Relational Databases
Loading a Database
Connecting to a Database
Exploring the Databases Panel
25. Adding Dynamic Data to Your Pages
Retrieving Information

Understanding Recordsets
Creating Recordsets
Filtering Information
Comparison Operators for Filters

Comparing text values
Comparing numbers

Getting Comparison Values

Form variables
URL parameters
Creating a link with a URL parameter
Creating the recordset for the results page
Advanced Recordsets and SQL
SQL: The very basics
Using the Data Tree view
Creating variables for filtering data
Reusing Recordsets
Editing Recordsets
Deleting Recordsets
Adding Dynamic Information
The Bindings Panel
Formatting Dynamic Information

Deleting dynamic information
Displaying Multiple Records
Creating a Repeating Table
Creating a Repeat Region
Editing and Removing a Repeat Region
Recordset Navigation
Recordset Navigation Bar
Recordset Navigation Status
Master Detail Page Set
Passing Information Between Pages
Viewing Live Data
HTTP Request Settings
Navigating Live View
Tutorial: Displaying Database Info
Creating a Recordset
Editing a Recordset and Linking to a Detail Page
Creating Repeating Regions
Building the Detailed Product Page
Filling in the Details
Operators Standing By
26. Web Pages that Manipulate Database Records
Adding Data

Dreamweavers Record Insertion Form Wizard
Using the Insert Record Behavior
Updating Database Records
The Update Record Form Wizard
The Update Record Server Behavior
Dynamic Form Fields
Dynamic Text Form Fields
Dynamic Checkboxes and Radio Buttons

Dynamic radio buttons
Dynamic checkboxes
Dynamic Menus and Lists
Deleting Records
Tutorial: Inserting and Updating Data
Adding an Insert Product Page
Finishing the Insert Form
Building a Page to Edit Database Records

Linking to the update page
Creating the update page
Creating and Linking to the Delete Page
Adding a link on the details page
Creating the delete page
27. Advanced Dynamic Site Features
Password-Protecting Web Pages

The Users Table
Creating a Registration Form
Creating the Login Page
The Log Out User Behavior
Protecting Individual Pages
Additional Data Sources
URL Variables
Form Variables
Cookies
Session Variables
Server Variables
Advanced Server Behaviors
Recordset Paging
Show Region Server Behaviors
Tutorial: Authentication
Building a Login Page
Password-Protecting the Administration Pages
Displaying a Portion of a Page to Logged-In Users
28. Server-Side XML and XSLT
Understanding Markup Technologies
Creating Dynamic Pages with XSLT and XML
Inserting and Formatting XML

Inserting a Repeat Region

Building a repeat-region filter

Inserting a Conditional Region
Using Multiple Conditional Regions
Advanced XSLT Tricks
Sorting Data in a Repeat Region
Using XSLT Parameters
A. Getting Help
Getting Help from Dreamweaver
Getting Help from Adobe
Adobes Dreamweaver Website
Paid Support
The Forums
B. Dreamweaver CS5.5, Menu by Menu
File Menu
Edit Menu
View Menu
Insert Menu
Modify Menu
Format Menu
Commands Menu
Site Menu
Window Menu
Help Menu
Index
About the Author
Colophon
Copyright
Dzieki opcji "Druk na żądanie" do sprzedaży wracają tytuły Grupy Helion, które cieszyły sie dużym zainteresowaniem, a których nakład został wyprzedany.
Dla naszych Czytelników wydrukowaliśmy dodatkową pulę egzemplarzy w technice druku cyfrowego.
Co powinieneś wiedzieć o usłudze "Druk na żądanie":
usługa obejmuje tylko widoczną poniżej listę tytułów, którą na bieżąco aktualizujemy;
cena książki może być wyższa od początkowej ceny detalicznej, co jest spowodowane kosztami druku cyfrowego (wyższymi niż koszty tradycyjnego druku offsetowego). Obowiązująca cena jest zawsze podawana na stronie WWW książki;
zawartość książki wraz z dodatkami (płyta CD, DVD) odpowiada jej pierwotnemu wydaniu i jest w pełni komplementarna;
usługa nie obejmuje książek w kolorze.
W przypadku usługi "Druk na żądanie" termin dostarczenia przesyłki może obejmować także czas potrzebny na dodruk (do 10 dni roboczych)
Masz pytanie o konkretny tytuł? Napisz do nas: sklep[at]helion.pl.
Dreamweaver CS5.5: The Missing Manual
Proszę wybrać ocenę!
Proszę wpisać opinię!
Proszę zaakceptować regulamin oraz politykę prywatności!
* pola obowiązkowe